2020.6.24 Pressrelease
New Product Specifications #3776 CENTURY SHIUN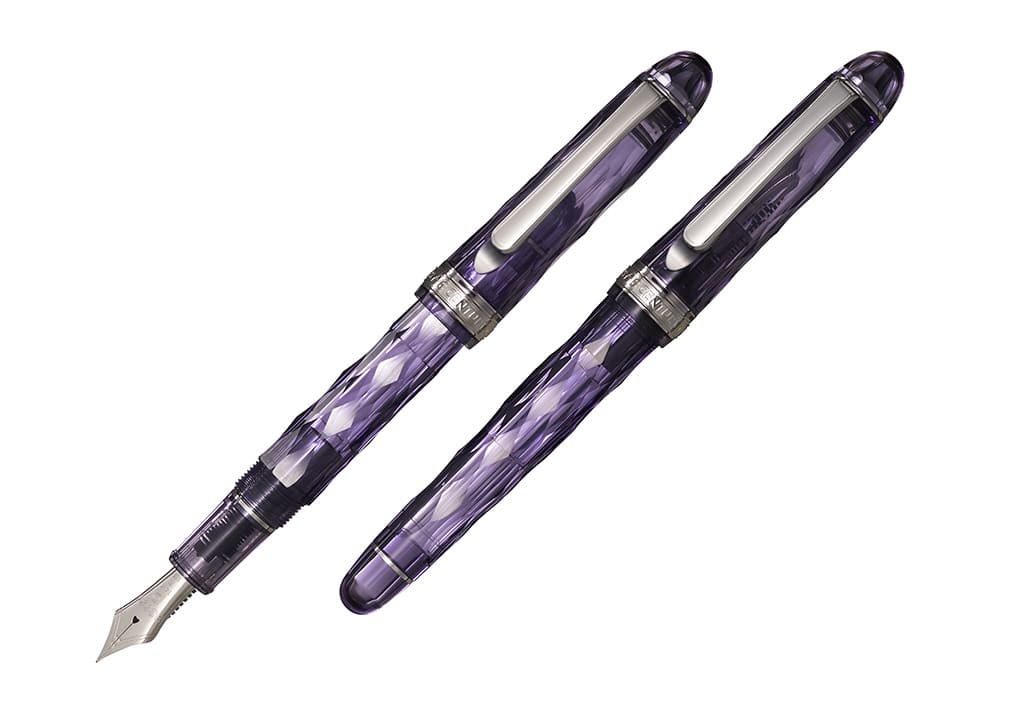 The Fuji Shunkei series features a lineup of new fountain pens inspired by the seasonal scenery of Mount Fuji.Scenic views pair well with beautiful Japanese words. The breathtaking landscapes coupled with the depth of the words create a stunning world view. The goal of the Fuji Shunkei series is to express such a view through designs of fountain pens. We aim at creating a new value through innova- tive ways of expression.
The fourth edition of the Fuji Shunkei series is "#3776 CENTURY SHIUN". Purple clouds, or "shiun" in Japanese, are believed to be an auspicious sign since ancient time. These clouds of good fortune appear around Mount Fuji, which has been worshiped by people over the centuries, painting the entire area with purple colors. Such a magnificent view, filled with supreme joy as if it heralded the beginning of a new era, is expressed in the new fountain pen.
Engraving on the body
The intricate pattern on the body depicting a layer of thin
clouds is created through a detailed facet cutting. It produces depth and refraction of light that reproduce the image of the beams of light extending from clouds, as if they were shining down from heaven onto the earth.
The expression of Mount Fuji
A part that resembles Mount Fuji is placed at the top of the pen, expressing the mountain enveloped in purple colors.
The expression of the cap ring
The cap ring is decorated with elaborate three-dimensional letters.
Serial number engraving
The new fountain pen is marketed worldwide in a limited number of 3,776, which is the height in meters of Mt. Fuji. Each pen comes with an engraved serial number.
Product number:PNB-35000SS
Nib:Extra fine、Fine、Medium、Broad
Size:139.5 mm (full length) × 15.4mm (max. diameter), average weight 20.5g
Material:Barrel, Cap, grip, crown, decoration(AS resin)
Grip ring, gold ring, upper ring, rear ring(Rhodium plating on brass)
Clip( Rhodium plating on beryllium Cooper)
Nib(14K gold wide Rhodium plating)
●Accessories
Box:Box-G1VSS
Cartridge ink:One blue black ink
Converter:Converter 700
Blotter card:Blotter card exclusive for SHIUN