2021.9.24 Pressrelease
New Product Specifications Izumo Raden "Galaxy"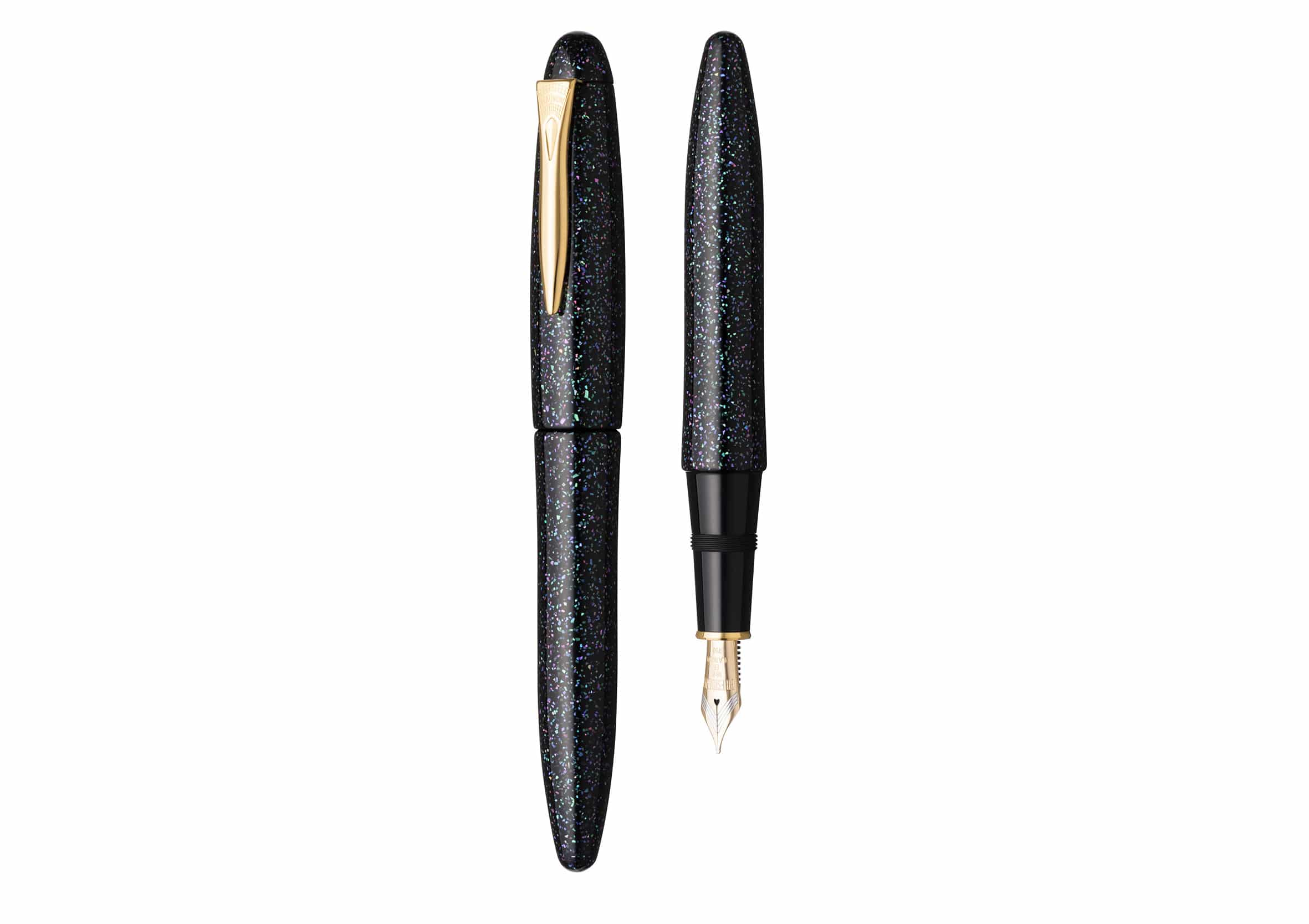 Izumo Raden "Galaxy"
The"Izumo" brand of Platinum Pen is one of the ultimate version of traditional Japanese techniques. The fountain pen "Galaxy" is the voluminous "Izumo" body with generously sprinkled with Raden (mother-of-pearl).
The universe in your hand. Sharpen the carved ebonite body apply. Urushi nuri (Japanese lacquer) and finely crush mother-of-pearts placed for the reflection of light. After about 6 months of lacquering, drying, and polishing, the "Galaxy" where countless stars emerge in jet black is born.
What is Raden.
A decorative technique commonly used for traditional crafts such as lacquer ware. The inside of the shell, the part of the nacre with iridescent luster, is cut out in a plate shape.
The technique of pasting on Urushi lacquer or wood, fitting it on the carved surface, and the crafts made using this Maki-e technique.This technique has been widely used for furnishings, accessories, and sword fittings since ancient times.
Product code : PIZ-160000
Nib : F / M / B
Barrel color : #56 GALAXY
Specifications
Size 153mm (full length) x 13.8mm (max. diameter); weight : 34.4g
Material Barrel, cap : Raden on ebonite
Clip : Gold plated on beryllium copper
Grip : AS resin
Nib : 18K Gold and Rhodium Plated nib
Gift Box : KIRI LN Izumo
Bottle ink One blue black bottle ink 30ml
Cartridge ink One blue black cartridge ink
Converter : Converter-800A
Pen pouch : Silver gray
Refill Cartridge : SPSQ-400 and SPN-100A
This pen nib has an exquisite, delicate feel and a responsive touch, ensuring beautiful handwriting regardless of the pressure applied while writing. After nearly a century of experience producing high-end writing instruments, we created the nib designed with a slightly harder and moderate resistance, this nib is suited to heavy-handed writers, as well as those with a delicate touch.